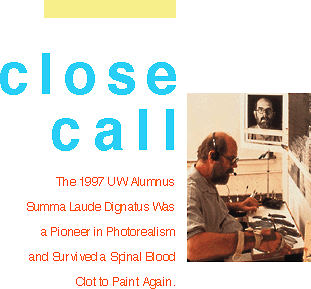 By Jon Marmor
He was big and clumsy and not very athletic. Because he was dyslexic, everyone considered him dumb and lazy. He was told to forget about college. He couldn't play sports because he couldn't keep up with his friends.
But that wasn't the only pain Chuck Close had to deal with in his young life. His father, a sheet metal worker, plumber and on-the-side inventor, was always in ill health and moved the family from Monroe to Everett to Tacoma to Everett in search of civil service jobs with health benefits.
When Close was 11, his life became very hard. His father died. His mother, a trained pianist who in the Great Depression gave up her aspirations for concert career, got breast cancer. They lost their home because of medical bills. His grandmother was diagnosed with Parkinson's disease. And Close, an only child, spent most of the year in bed with nephritis, a nasty kidney infection.
One thing did help him cope with the mind-numbing agony, sadness and misery: art.
He always liked to draw. At age 4, he knew he wanted to be an artist. At the age of 5, his dad made him an easel for his birthday and got him a set of oil paints from Sears. In an attempt to win friends and "get kids to be around me," he also did magic and puppet shows. He drew and painted. People noticed.
Little did Charles Thomas Close know back then that he would indeed to go to college, graduating not only from the University of Washington in 1962 (magna cum laude) but from Yale as well. Chuck Close is now one of the true superstars of art. His works hang in the world's most prestigious museums, he is considered by ARTNews magazine to be one of the 50 most influential people in the art world--and he is so big he turned down a major retrospective at New York's Metropolitan Museum of Art because promises were broken. He chose the Museum of Modern Art instead. No one can recall an artist ever turning down the Met.
Chuck Close
Big Self-Portrait, 1968
acrylic on canvas
107 1/2 x 83 1/2 in.
Walker Art Center, Minneapolis, MN
Chuck Close was associated with the style of painting called Photorealism or Superrealism. In this style, artists in the early 1970s created a link between representational systems of painting and photography. Photorealism developed as a reaction to the detachment of Minimalism and conceptual art, which did not depict representational images. Photorealists frequently used a grid technique to enlarge a photograph and reduce each square to formal elements of design. Each grid was its own little work of art. Many of the Photorealists used the airbrush technique.
Big Self-Portrait, in black and white, was the first of Close's mural-sized works painted from photographs. This painting took four months to complete. To make this work, Close took several photographs of himself in which his head and neck filled the frame. From these he selected one of the images and made two 11 x 14-inch enlargements. On one of the photographs he drew a grid, then lettered and numbered each square. Using both the gridded and ungridded photographs, he carefully transferred the photographic image square by square onto a large canvas measuring 107 1/2 x 83 1/2 inches. He used acrylic paint and an airbrush to include every detail.
When Close was making his painting he was concerned with the visual elements--shapes, textures, volume, shadows, and highlights--of the photograph itself. He also was interested in how a photograph shows some parts of the image in focus, or sharp, and some out-of-focus, or blurry. In this portrait the tip of the cigarette and the hair on the back of his head were both out-of-focus in the photograph so he painted them that way in Big Self-Portrait.
But this is much more than just the story of a local boy who made good. On Dec. 7, 1988, at the age of 49, Close was at the height of his career as a portrait painter when he was stricken with a spinal blood clot that left him a quadriplegic. Many thought his career was over.
As he came to grips with life in a motorized wheelchair, unable to move from the neck down, with little hope for improvement, his biggest fear was that "I was not going to make art. Since I'll never be able to move again, I would not be able to make art. I watched my muscles waste. My hands didn't work."
But like the previous tragedies in his life, that didn't stop him either. He not only returned to painting, but with a new style that has kept his place as one of the great American painters of our time.
With a paint brush clamped between his teeth, he developed a new way to paint. His portraits, the photos, and canvases were gridded off by assistants and then he used his mouth brush to paint, using the techniques of grisaille and pointillism within the grids. This is similar to technique used by the Impressionists and Pointillists. The result was still a canvas of mini-paintings, which when viewed from a distance are seen as a single or unified image.
Chuck Close
Kiki, 1993
acrylic on canvas
107 1/2 x 83 1/2 in.
Walker Art Center, Minneapolis, MN
This painting was made in 1993, 25 years after Big Self-Portrait . Kiki also took three to four months for the artist to complete.
Up close detail of Kiki.